How to Get More College Gigs
Colleges are an often overlooked, but they have a very profitable and rewarding fanbase that an artist can tap into. However, many artists write college venues off, because they think colleges just want cover artists or pop DJs. However, they might also think they won't do well with the college crowds, or they are too far away from their operating base.

This can't be further from the truth. College radio is a huge network, college students have eclectic tastes, and best of all, Student Government Associations (SGAs), actually have structures for booking music acts for football games, tailgating acts, homecoming celebrations and more. They also tend to supply bands with professional-level, full-time sound teams to set-up and of course, a healthy operating budget. Also, they like consistency; if you perform once (and perform well), they'll likely be calling you back again soon.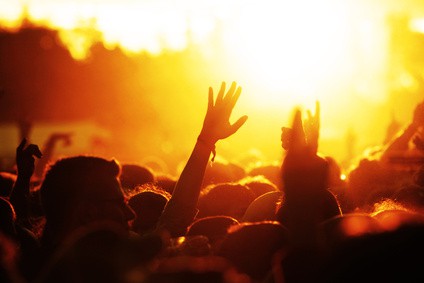 Get Familiar with NACA and SGA

NACA stands for the National Association for Campus Activities. And I'm hoping they really change your entire opinion of the college market. Each year NACA hosts conferences and the SGAs from colleges throughout the country attend them.

As mentioned previously, the SGAs are the guys that book you for games,  events and other activities. However, these students will eventually graduate, so these lineup changes every year, or, they can actually change each semester. So, that being said, there are conventions when new Student Gov teams come to meet bands that they can potentially book,
Yep, that's right, they hold an entire conference for booking bands and entertainers.  
At these conferences and events, artists put on showcases, and set up various booths so the members of the SGAs can check out their music, and eventually book them. Not only does NACA help artists perform in front of colleges, but they can also assist with touring.

Let's say you're playing in Texas, well because of NACAs "block booking" policy, they can likely help you book in nearby Mississippi and Louisiana as well.

Strive to speak to people directly
Trying to book through SGA is a good system because for a lot of these college leaders, this is one of the first times they hold such a big job, so they are more likely to be open about checking you out, unlike some big venues who are usually swamped with hundreds of EPKs a month. The college decision makers will be more open to reading the EPKs that fall into their laps.

Don't forget social media, and college radio.

Make sure that you're speaking to the right crowds by targeting social media posts towards the college demographics.

Also, let's not forget college radio! Regardless of if you're trying to play in the college demographic, it's essential to try and develop more visibility through college radio. Numerous artists have gotten their start there and continue to flourish in that network.